Managed Portfolios
While we tailor investment solutions to match each client's unique objectives and portfolio parameters, client risk profiles typically align with the following categories. In such cases, investments will replicate model portfolios.

Our Managed Portfolios are designed to generate returns and/or income that align with investor parameters, driven by thorough fundamental research and investment decisions. Our specialization lies in Asian equities. For our managed portfolios, our approach combines top-down and bottom-up strategies to maximize returns.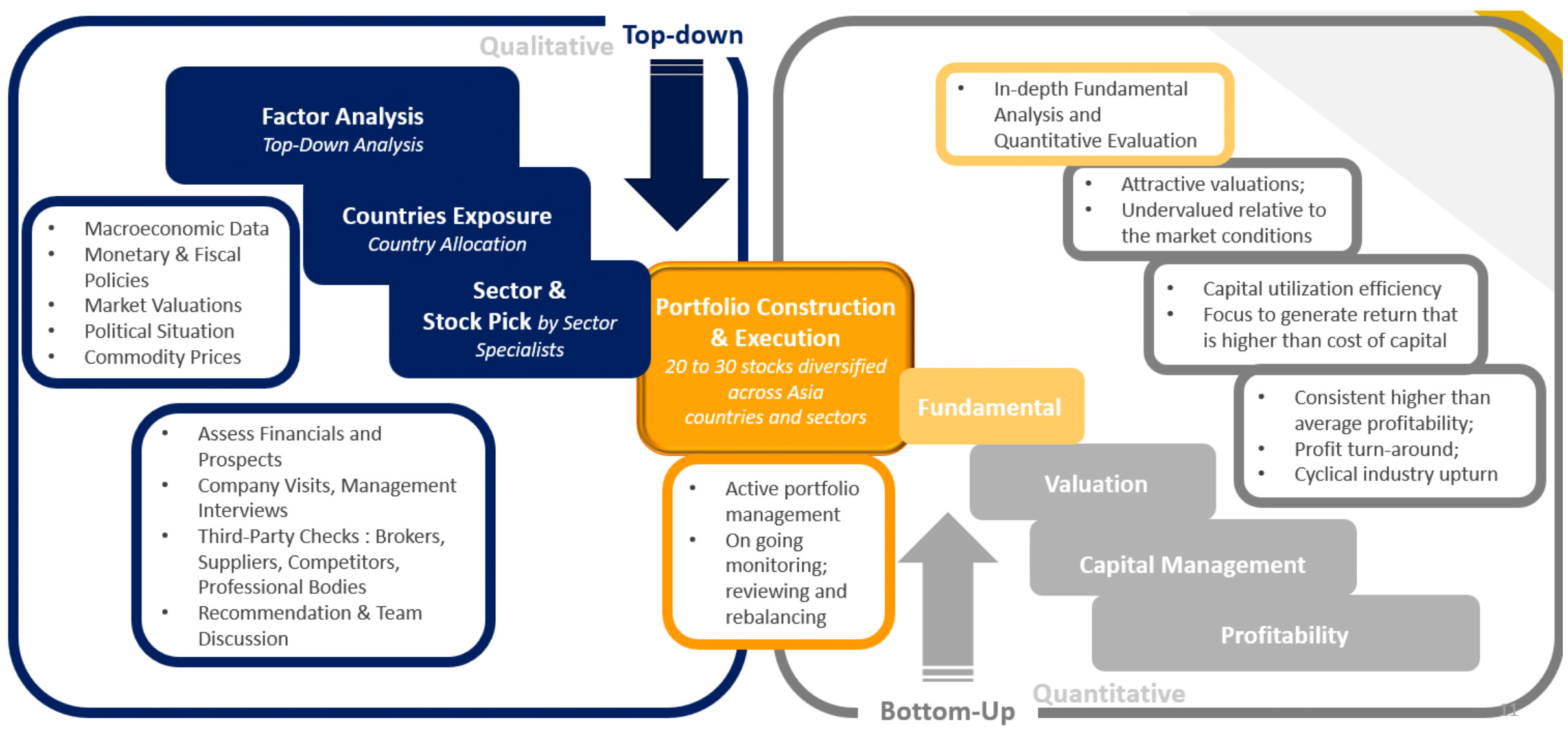 Income Portfolio
Our Income Portfolio is crafted to offer clients a consistent income stream coupled with the potential for long-term capital growth. This portfolio comprises equities from well-established, successful businesses. We select companies based on their impressive track record, strong financial standing, and dominant position in their respective markets.
Growth Portfolio
Our Growth Portfolio is designed to deliver clients substantial capital appreciation. We achieve this by investing in equities of high-quality businesses with strong earnings growth potential, a solid financial position, and operations within promising growth industries.
Malaysia Portfolio
Our focus is on delivering superior returns by targeting the Malaysian market. We invest in businesses with promising growth prospects and robust competitive advantages, always seeking growth at a reasonable price.
M-Focus Portfolio
We primarily concentrate on the Malaysian market while incorporating regional market exposure for diversification. Our goal is to achieve superior returns by investing in businesses with promising growth prospects and strong competitive advantages.
Ethical Portfolio
Our aim is to attain medium to long-term capital growth by investing in securities that adhere to Syariah Principles while exhibiting high or improving ESG (Environmental, Social, and Governance) characteristics. For our Malaysian investments, we strictly adhere to the list of approved securities by the Syariah Advisory Council of the Securities Commission.

This investment strategy involves no exposure to the following sectors: gaming, tobacco, alcoholic beverages, swine product production and supply, conventional banking, and insurance businesses.
We're Here to Help You
What is a Managed Portfolio?
A managed portfolio is an investment strategy where a team of professionals actively manages your investments on your behalf. It aims to help you achieve your financial goals while considering your risk tolerance and preferences.
What Are the Benefits of a Managed Portfolio?
A Managed Portfolio differs from a Wholesale fund structure, as the clients' investments are not affected by the capital movements of the fund caused by other investors. The portfolio consists of assets solely owned by individual investors.
What Types of Assets Are Included in a Managed Portfolio?
Managed portfolios may include a mix of stocks, bonds, mutual funds, ETFs, and other assets, depending on your investment strategy and objectives.
What Regulatory and Compliance Standards Do You Follow?
We adhere to all relevant financial regulations and compliance standards, prioritizing transparency, and the best interests of our clients.