Every client's investment objectives and portfolio parameters may be different and we will customize recommended investment solutions for each of our valued investors. However, client risk profiles generally fall into the following categories and in such instances, their investments will mirror the model portfolios.
Managed Portfolios aim to generate a return and/or income that fits the investor parameters based on fundamental research and investment decisions. We specialize in Asian equities. Our approach is a blend between top-down and bottom-up for the Growth Portfolio, Income Portfolio, and *Ethical Portfolio.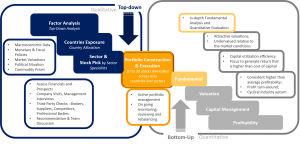 Income Portfolio
The Income Portfolio aims to provide clients a regular income stream and the potential for long-term capital appreciation via a portfolio of equities in proven successful businesses. Companies are selected for a good track record, solid financial position, and dominant market position.
Growth Portfolio
The Growth Portfolio aims to provide clients greater capital appreciation via investments in equities of quality businesses that possess higher earnings growth potential, a sound balance sheet, and operate within an attractive growth industry.
Quantamental Portfolios
Our Quantamental Portfolios aim to generate superior returns using a bottom-up, high conviction strategy. The portfolio consists of about 15 stocks typically. The strategy employs a Quantitative and Fundamental (Quantamental) screening process.

Ethical Portfolio
Ethical Portfolio – aims to achieve medium to long-term capital growth from securities that conforms to Syariah Principles. Malaysian investments will be restricted to the list of securities approved by the Syariah Advisory Council of the Securities Commission.
*Ethical Portfolio – No exposure to gaming, tobacco, alcoholic beverages, conventional banking, and insurance businesses.